Ultra-Miniature Fully Illuminated Plungers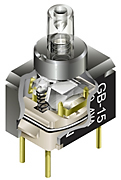 Fully illuminated plunger for highly visible status indication with single color LED in red, green, or amber.
Ultra-miniature size allows high density mounting, and extremely light weight makes these switches ideal for handheld equipment.

Totally sealed body construction prevents contact contamination and allows time- and money-saving automated soldering and cleaning. Insert-molded terminals lock out flux, solvents, and other contaminants.

Award-winning STC contact mechanism with benefits unavailable in conventional mechanisms: smooth, positive detent actuation, increased contact stability, and unparalleled logic-level reliability. (Additional STC details in Terms & Acronyms; see Supplement section.)

.100" x .100" (2.54mm x 2.54mm) terminal spacing conforms to standard PC board grid spacing. Round terminals facilitate easier through-hole mounting on PC boards.

Nonilluminated pushbuttons available and shown in the Pushbutton section.
Ultra-Miniature Fully Illuminated Plungers