Audio Video Switches - KP Series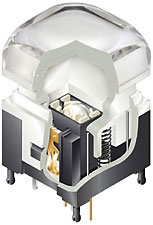 KP series offers a complete switch solution for all broadcast panel needs, including home keys and the custom rectangular switch/cap assembly.
Distinct, long total travel of .177" (4.5mm) for KP01 or shorter stroke of .138" (3.5mm) for KP02.

Available with red/green bicolor LED and custom RGB LEDs. The RGB LED full color spectrum in a switch package provides unlimited color combinations.

Specially designed snap-in standoff for simple and secure PC board mounting and alignment.

Unique actuation guide gives positive indication of circuit transfer as well as smooth and silent operation. (Patent pending).

Choices of tactile, nontactile or tactile/audible actuation.

Compact design with height of .906" (23.0mm) from PC board to top of cap. (Same height as IS series programmable SmartSwitchTM.) Flat, sculptured or home key square caps in three common sizes for design flexibility in audio/video applications.

Twin contacts with gold plating assure high reliability and long life of 5,000,000 operations minimum.

Epoxy sealed terminals to lock out flux, dust, and other contaminants, plus standard PCB spacing of .100" (2.54mm).