Products
NKK presents over 3,000,000 different switch options with ratings from logic level to 50 amps. All switches have been designed and manufactured to provide the quality and reliability that has made NKK the benchmark for reliability for nearly half a century.
Switch Guide and Brochures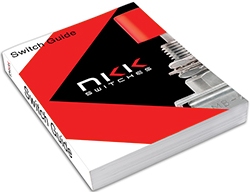 NKK's Switch Guide is complete with an easy-to-use organizational structure that includes several new additions to the company's extensive offering of innovative switch solutions. The new Switch Guide contains over 4 million switch options including toggle, rocker, pushbutton, lighted, slide, tactile, keylock, rotary, SMT switches, tilt switches, DIP rotary and DIP slide/piano switches.
You can download our burochures for specific products.