Subminiature Antistatic PCB Keylock Switches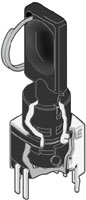 Totally sealed construction for automated processing techniques.
Subminiature size allows for high density mounting.
Molded-in, epoxy sealed terminals prevent entry of flux and other contaminants.
Crimped bracket legs ensure secure PCB mounting and prevent dislodging during automated wave soldering.
Bifurcated, self-wiping contact mechanism provides unequalled logic-level reliability and smoother, positive detent actuation.
Detent mechanism gives a crisp actuation for accurate switch setting.
.100"X.100" terminal spacing conforms to standard PC board gridspacing. Round terminals facilitate easier through-hole mounting on PC boards.