Process Sealed Antistatic Subminiatures - BB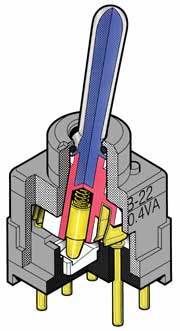 Available with toggles, paddles, and the industry's smallest alternate action pushbutton.

Antistatic superstructure prevents static discharge to the contacts

Smooth, 6mm diameter bushing simplifies panel layout.

Locking lever mechanism offered as a toggle option.

Optional threaded, 6mm diameter bushing for panel seal mounting meets IP65 of IEC60529 specifications.
The latchdown feature on pushbutton maintained circuits provides visible, audible, and tactile feedback.

Award-winning STC contact mechanism with benefits unavailable in conventional mechanisms: smoother, positive detent actuation, increased contact stability and unparalleled logic-level reliablity.

Totally sealed construction prevents contact contamination and allows soldering and cleaning.

.100" x .100" terminal spacing conforms to standard PC board grids.

Illuminated toggles available and shown in the Illuminated Other section.
Process Sealed Subminiature Antistatic Pushbuttons - BB
Process Sealed Subminiature Antistatic Toggles - B