Snap-Action Pushbutton Switches (MB2400)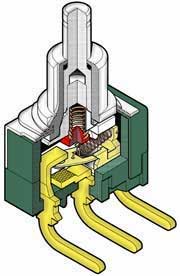 Short stroke and light touch.

Internal o-ring protects against contamination.

High torque bushing construction prevents rotation or separation from frame during installation.

Antijamming design protects contacts from damage due to excessive downward force on the actuator.

Stainless steel frame resists corrosion.

Longer center solder lug terminal simplifies wiring and soldering.
Patented silver contacts of specially composed alloy for hardness.

Epoxy sealed terminals prevent entry of solder flux and other contaminants.

Snap-acting mechanism gives smooth actuation and audible feedback.

Prominent external insulating barriers increase insulation resistance and dielectric strength.
Snap-in Mount Pushbuttons - MB2400
Angle Mount PC Pushbuttons - MB2400
Bushing Mount Pushbuttons - MB2400