Ultra-Thin Rocker Switches - GW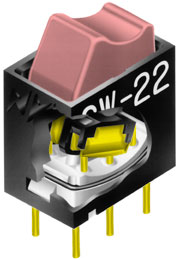 Various colored rocker and paddle actuators.

Combination of dust cover and closely fit housing, actuator and interior pivot. Provide protection for contacts.

Detent mechanism for rocker/paddle designed for crisp and positive actuation.
Patented Sliding Twin Crossbar (STC) mechanism provides unequalled logic-level reliability and smoother, positive detent actuation.

Extremely thin size allows high density PCB mounting and makes these switches ideal for handheld equipment.

Molded-in, epoxy sealed terminals lock out flux and other contaminants.

.100" X .100" terminal spacing conforms to standard PC board grid spacing for straight and angle mounting.
Ultra-Thin PCB Mount Rockers and Paddles - GW