Internationally Approved Rocker Switches - JW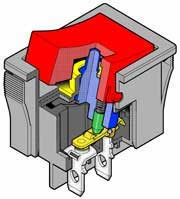 Industry's first molded rocker with TV rating. Designed to handle large inrush current: JWM models certified for TV-5 rating and JWL models for TV-8 rating.

Special 5A @ 72V DC rating for JWL models to use in worldwide telecommunication applications for distribution.

Prominent external insulating barriers increase insulation resistance and dielectric strength.
Constructed for dust resistance with interior seal of polyphenylene sulfide (PPS) between actuator and contact area.

Specially designed to break light contact welds.

JWM panel seal version meets IP67 of IEC529 Standards (similar to NEMA 4 and 6).

Terminals are molded in and epoxy sealed to lock out flux, dust, and other contaminants.

Housing and case of heat resistant resin meet UL's 94V-0 standard.
Internationally Approved Rockers JWM TV-5, JWL TV-8 Standard Size
Internationally Approved Rockers JWS 6A Miniature Size