Miniature Rocker Switches - M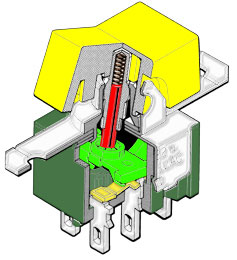 High insulating barriers increase isolation of circuits in multipole devices and provide added protection to contact points.

The molded diallyl phthalate case has a UL94V-0 flammability rating.

Epoxy sealed terminals prevent entry of solder flux and other contaminants.

Prominent external insulating barriers increase insulation resistance and dielectric strength.
Bias guard prevents misalignment of contacts; interlocking of actuator block with rocker and internal guide does not allow transmission of diagonal force on rocker to reach contact mechanism.

Clinching of the frame to the case well above the base and terminals provides 1500V dielectric strength.
Snap-In Mount Miniature Rockers - M
Bracket PC Mount Miniature Rockers - M
Flat Frame Mount Miniature Rockers - M