LED Tipped Actuators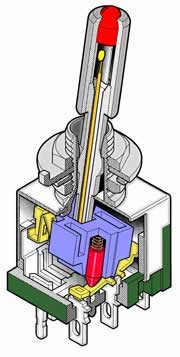 ndustry's first LED illumination at tip of toggle and paddle switches.

Single or bicolor LEDs to meet varied design requirements.

Antijamming feature to protect contacts from damage due to excessive downward force on the toggle.
High torque bushing prevents the bushing from rotating or separating from the metal frame during installation.

Stainless steel frame resists corrosion.

Patented silver contacts are of specially composed alloy for hardness.

High insulating barriers protect against crossover in double pole devices.

Terminals are molded in and epoxy sealed to lock out flux, dust and other contaminants.

1500V dielectric strength between switch contacts and case is accomplished by clinching the frame away from the terminals.
LED Tipped Toggle, Rocker and Paddle