Illuminated Miniature Rocker Switches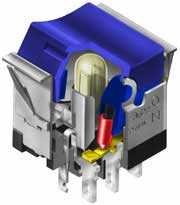 Industry's first miniature snap-in, lighted rocker switch. Patented internationally.

Actuators in various styles operate with firm, well-defined movements.

Interlocking actuator prevents switch failure due to jamming or window locking.

Two bezel sizes adapt to varied panel cutouts.
Unique stainless steel retaining clips securely hold switches over a range of panel thicknesses, even when exposed to vibration.

Space conserving front panel mounting with minimum behind panel dimension of .902".

Durable stainless steel housing prevents corrosion.

Isolated lamp circuit for incandescent, LED, and neon lamps. Front panel relamping.

Built-in protective cover shields contacts from dust.

Epoxy sealed solder lug terminals lock out flux, dust and other contaminants.

Extended lamp terminal for ease of wiring.

Matching indicators available and shown in Indicator section.
Snap-In Mount Power Rated Rockers