Internationally Approved Switches - P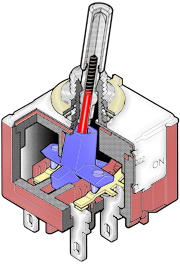 International certifications from UL, CSA, VDE, SEMKO, and SEV.

Contacts of special silver alloy resist arcing and guarantee stable contact and long life.

Stainless steel frame resists corrosion and increases environmental safety.

High insulating barriers increase isolation of circuits in double pole devices and provide added protection to contact points.

Case/base of heat resistant resin meets UL94-0 flammability standard.
Prominent external insulating barriers increase insulation resistance and dielectric strength.

Clinching of frame to case well above base and terminals provides 4,000V dielectric strength.

Epoxy sealed terminals prevent entry of flux and other contaminants.
Internationally Approved Rockers/Paddles - P
Internationally Approved Toggles - P