Power Rated Slide Switches - CS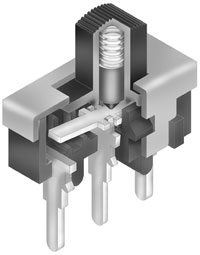 High performance and high quality at a low price.

Molded cover and case of high insulating material withstand 12 kilovolts of electrostatic discharge (ESD), providing antistatic feature.
Cover and case UL 94-V0 flammability rated.

Epoxy sealed terminals to lock out flux, dust, and other contaminants.

Suited for a wide variety of applications including telecommunications, electronic controls, audio devices, and household appliances.
Power Rated Slide Switches - CS