Subminiature Slide and Piano DIP Switches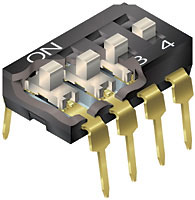 Slide type and piano type actuators available.

Twin sliding contact mechanism with self-cleaning action (JS01) provides smooth actuation and produces high contact reliability.

Gold plated contacts prevent oxidation and sulfide effect and provide stable contact resistance.

Use of self-extinguishing UL94V-0 certified material in cover and base provides high arc resistance and high insulation resistance.

Slanted terminals ensure secure PCB mounting and prevent dislodging during wave soldering.

Terminal spacing conforms to standard .100" (2.54mm) PCB grid.

End-to-end stackable.

Surface mount with extended and flush actuators

Twin sliding contact mechanism with self-cleaning action (JS02) provides smooth actuation and produces high contact reliability.

Gold plated contacts prevent oxidation and sulfide effect and provide stable contact resistance.

Use of self-extinguishing UL94V-0 certified material in cover and base provides high arc resistance and high insulation resistance.

Gull-wing terminals ensure secure PCB mounting and prevent dislodging during vapor phase and infrared convection reflow soldering.

Terminal spacing conforms to standard PCB grid.
For JS02: .100" (2.54mm) For JS04: .050" (1.27mm)

End-to-end stackable.

Coplanarity: all considered surfaces must lie between two parallel planes that are a maximum distance apart of .0059" (0.15mm). (Additional coplanarity details in Terms and Acronyms in the Supplement section.)
JS01 Through-hole Slide DIP
JS03 Through-hole Piano DIP