Ultra-Miniature Slide Switches (SM)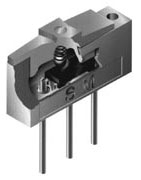 Very compact dimensions allow for high density, side-by-side or end-to-end mounting within tight dimensional applications.

Detent mechanism provides positive actuation to indicate circuit status.

Visible indication of position by spot on top of red actuator and through window on side.
Twin sliding contact mechanism with self-cleaning action provides smooth actuation and produces high contact reliability.

.100" x .100" (2.54mm x .2.54mm) center-to-center inch terminal spacing allows standard PC board mounting in side-by-side or end-to-end arrangements.

Insert molded terminals lock out flux, solvents, and other contaminants.
Ultra-Miniature Slides - SM