Ultra-Thin DIP Rotary Switches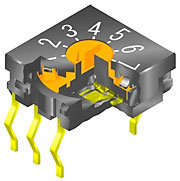 Environmentally friendly components and packaging materials meet RoHS directive restricting use of hazardous substances. Suited to lead-free solder processing applications because of heat resistant resin materials.

Slim .150" (3.8mm) body has the lowest profile in the industry and allows close stacking of PC boards.

Highly visible legends and choice of screwdriver or shaft actuators with arrow position indication provide trouble-free code setting. Actuator knob also available.

Detent mechanism gives crisp, positive action for accurate switch setting.

Use of heat resistant resin allows vapor phase and infrared convection reflow soldering.

Crimped terminals for through-hole models ensure secure PC mounting and prevent dislodging during soldering.

Gull-winged terminals for SMT models ensure mechanical stability during soldering and simplified solder joint inspection.

Cam activated movable contact and gold contacts assure contact reliability and continuity.

Tape Reel packaging meets EIA-481-2 Standard.

Coplanarity tolerance zone is .0059" (0.15mm) maximum, the allowable distance between all considered surfaces in two parallel planes (for SMT models only).


Ultra-Thin DIP Rotaries - Through-hole
Ultra-Thin DIP Rotaries - SMT