6mm Eco-friendly Tactile Switches - HP02, HP03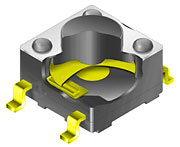 Environmentally friendly construction with no lead in any components. Components and packaging materials meet RoHS directive restricting use of hazardous mounting substances such as lead and cadmium.

.244" (6.2mm) square body allows compact mounting.

Heat resistant resin body meets lead-free solder processing requirements and UL flammability rating of 94V-0.

Stick-tube and tape-reel packaging allow rapid automated placement of devices.
Gold plated contacts available for very low voltage/current applications offer advantages of little or no oxidization or sulfurization and stable contact resistance.

Crimped PC terminals for through-hole models provide a spring type action which ensures secure mounting and prevents dislodging during automated soldering.

Gull-winged terminals for SMT devices ensure mechanical stability during soldering and simplified solder joint inspection.

Insert molded terminals lock out flux, solvents, and other contaminants and allow automated soldering.

SMT packaging meets EIA Standard 481-2.

Coplanarity tolerance zone is .0039" (0.1mm) maximum, the allowable distance between all considered surfaces in two parallel planes (for SMT models).
6mm Eco-friendly Tactiles - Through-hole HP02
6mm Eco-friendly Tactiles - SMT - HP03