Washable Ultra-Miniature DIP Rotary Switches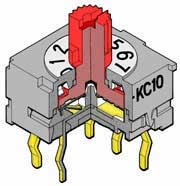 Sealed construction prevents contact contamination and allows automated soldering and washing.

Highly visible legends and choice of screwdriver or shaft actuation to provide trouble-free code setting.

Detent mechanism designed for crisp, positive action for accurate switch setting.

Bifurcated, spring loaded contacts give unmatched logic-level reliability.

Heat tolerant resin used for body meets UL flammability rating of 94V-0 and maintains switch reliability through automated soldering process, including vapor phase soldering of SMT devices.

Crimped terminals ensure secure PC mounting and prevent dislodging during soldering.

.100" terminal grid spacing between pin centers, plus 3-by-3 terminal arrangement for footprint pattern equivalent to industry standard.

Gull-winged terminals for SMD ensure mechanical stability during soldering and simplify solder joint inspection.

Epoxy sealed terminals lock out flux, solvents, and other contaminants.


Through-Hole DIP Rotaries
Surface Mount DIP Rotaries