Washable Low Profile Tactile Switches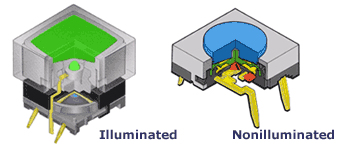 Illuminated
Bright, full-face illumination with red, green, or yellow LEDs for attractive, functional panel layouts.
Nonilluminated
Special bracket for right angle mounting provides added design variations.

Choice of dimensions from PCB to top of cap adds to design flexibility.

Higher operating force type provides more pronounced operating feel.
Dome contact gives crisp tactile feedback to positively indicate circuit transfer and assures high reliability and long life of up to 5,000,000 operations.

Rubber seal construction prevents contact contamination and allows automated soldering and washing.

Slanted terminals provide a spring type action which ensures secure mounting and prevents dislodging during wave soldering.

Molded-in terminals are part of the sealed construction which allows automated soldering and washing.

Terminal spacing conforms to standard 2.54mm PCB grid.
Illuminated Washable Low Profile Tactiles JB
Washable Low Profile Tactiles nonilluminated JB