3 Amp and 0.4VA Miniatures - EB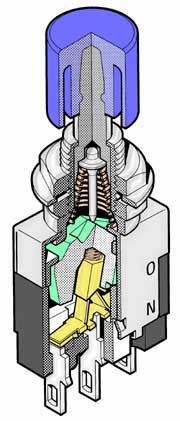 Power and logic level capabilities available to suit varying applications.

Pushbutton models have light touch actuation.

The high torque bushing prevents the bushing from rotating or separating from the metal frame during installation.

The stainless steel frame resists corrosion.

Case of heat resistant resin meets UL 94V-0 flammability rating.
Higher insulating barriers protect against crossover in double pole devices.

1500V dielectric strength between contacts and case is accomplished by clinching the frame away from the terminals.

Epoxy sealed terminals prevent entry of solder flux and other contaminants.
Light Duty Miniature Toggles - E

Light Touch Miniature Pushbuttons - Bushing Mount - EB
Light Touch Miniature Pushbuttons - Snap In - EB